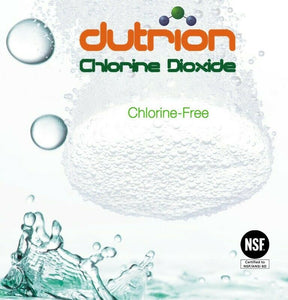 12 - (4 gram Dutrion Tablet[s]®)
What quantity should I order? This order will include 12 individually wrapped 4 gram Dutrion Tablets®. Two tablets will treat beteeen 4,000 and 6,000/sq.ft. Increase order quantity based on the square footage you are spraying. You can use a garden sprayer, fogger/mister or an electrostatic sprayer. The finer the output of mist will maxamize the square footage of coverage.
4,000 - 6,000/sq.ft. - 2 tablets 
24,000 - 36,000/sq.ft. - 12 tablets
For all types of disinfection applications where chemistry is preferred. To date, no organism has proven to be resistant. Proven to kill Human Coronavirus SARS-CoV-2, the coronavirus that causes COVID-19. This effervescent solution is one of the best options. This disinfection solution can be applied to surfaces. Registered with the United States Environmental Protection Agency (US EPA 89492-2), U.S. Food and Drug  Administration (FDA), NSF International (NSF-60), and Organic Material Review Institute (OMRI) as a disinfectant, sanitizer, fungistatic, and deodorizer. It has the ability to destroy or eliminate all forms of microbial life including fungi, viruses, and all forms of bacteria and their spores.
This disinfectant can be used in fogs or mists to help clean and disinfect the areas in which disinfection is required. *Application device not provided. *Gallon container not provided.
 This is a concentrated tablet. Add a tablet to one gallon of water. This yields 1 gallon of disinfection solution. Disinfection solution covers 2,000-3,000 square feet per gallon depending on the application device. Further Details
KEY POINTS:
5 times stronger than chlorine and bleach solutions
Registered with the United States Environmental Protection Agency (US EPA 89492-2 and U.S. Food and Drug Administration (FDA)

5-minute contact time has a 6-log reduction (99.9995%)

Hospital Grade Disinfectant

To date, no organism has proven to be resistant
Oxidizer which does not leave a residue when cleaning

Suitable for indoor and outdoor use
Use in Spray Bottle, Pump Up Sprayer, Low-Pressure Sprayer, Electrostatic Sprayer

Do you  wish to purchase Step 2: Inhibit 90™individually?

 

CLICK HERE
Do you wish to purchase STEP 1: Dutrion Tablet[s]® and STEP 2 - Inhibit 90™ together? CLICK HERE
 -----‐-------------------------------------------------------------
VIRUCIDAL, DISINFECTANT, DEODORIZER, AND CLEAN HARD, NON-POROUS SURFACES
TO DISINFECT, DEODORIZE, AND CLEAN HARD, NON-POROUS SURFACES For all applications, directly apply by mop, sponge, spraying apparatus, ensuring visible application for time specified or apply through immersion or clean-in-place application.
HEALTH-CARE AND VETERINARY FACILITIES: Dutrion Tablet is a [germicidal] [biocide] [ biocidal] disinfectant, cleaner, fungistat and deodorizer for disinfecting, [and deodorizing] hard, non-porous environmental surfaces. [Use to disinfect surfaces and instruments.] [DISINFECTION OF HARD, NON-POROUS, NON-FOOD SURFACES: Disinfect hard surfaces [in hotels, offices, ships, hospitals, schools, factories, nurseries, sick rooms, laundry rooms, eating establishments, medical, veterinary clinics] [or any other location that may be contaminated]. [Add one 1-gram tablet to 1-quart water (for 100 ppm) for a 5-minute dwell time[.]] [or] [Prepare according to directions at 100 ppm] for 5-minute dwell time.]]
DISINFECTION OF BENCH TOPS, BIOLOGICAL HOODS, INCUBATORS, STAINLESS STEEL EQUIPMENT AND INSTRUMENTS: [Product may be used to disinfect bench tops, biological hoods, incubators, stainless steel equipment and instruments.
ODOR, MOLD & MILDEW Dutrion Tablet eliminates and destroys odors and odor-causing bacteria, mold, and mildew. Prior to treatment, rooms should be in clean condition.
DEODORIZE PET LITTER BOXES, CARPETS, CONCRETE FLOORS, ETC.
DISINFECTANT, [BIOCIDE,] CLEANER AND FUNGICISTAT FOR NON-POROUS FOOD CONTACT SURFACES; Disinfect food-contact surfaces[,][.][including] [terminal rinse, stainless steel, tanks, water/transfer lines, on-line equipment, recirculating, Clean-In-Place (CIP) systems, tables/trays/bins, utensils, food processing equipment in poultry, meat, fish processing plants, dairies, restaurants, and bottling/canneries/brewery plants and similar surfaces].
FUNGICIDE, AND DEODORANT FOR VENTILATION SYSTEMS: To treat surfaces for odor causing bacteria associated with ventilation and air conditioning duct work in residential, commercial, and institutional situations.
DEODORIZE HVAC System Ductwork: Spray Dutrion Tablet into system intake vents while system fan is running.